Hut by the Pond
In line with government guidance the Hut by the Pond will reopen from 12th April 2021. Online booking is open...look forward to welcoming you to the farm!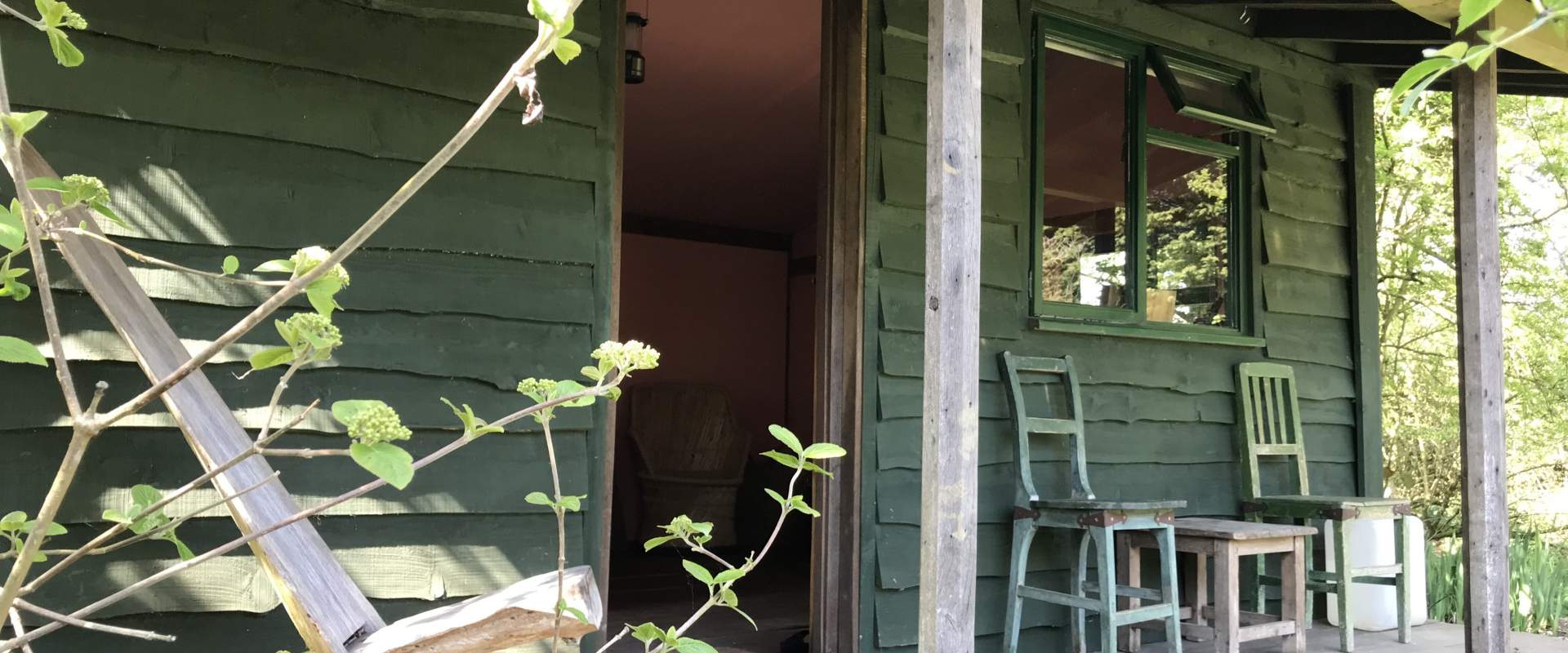 Location
A magical spot at the waters edge, in it's own private woodland. Right off the beaten track
Suitable For
One or two people looking for absolute seclusion, peace and quiet. Retreat or romance
What's Inside
- Double bed, chairs, table
- Gas ring, all basic pots, pans, crockery and cooking utensils
- Woodburner and wood for a couple of evening burns
What's Outside
- Verandah and chairs
- Outdoor fireplace, with outdoor cooking equipment
- Private compost loo
- Simple 'heat your own water' shower
- Cold water tap...all water is from the farm bore hole, safe and delicious to drink
What To Bring
- All bedding
- Loo Roll
- Candles / Torch / Matches
What Not To Bring
Not too much food! The farm shop is full of fresh veg, fruit, meat, dairy and bread from the farm as well as all the groceries, alcohol and household items you could ever need. The cafe serves hot drinks and cakes, light breakfasts and delicious vegetarian lunches (with meat from the farm on a Sunday)
Important Info
- Arrival from 4.30pm
- Departure by 11am
- ! No electricity !
- Sorry no dogs, day visitors or amplified music
- 3 night minimum for bank holidays
What To Do Here
- Absolutely nothing! Soak up the peace and quiet on the deck of the hut, surrounded by birds, bees and trees
- Head up the wooden ladder at dusk to see the badgers, your nearest neighbours
- Amble down the old railway line (then loop back across the fields) to the farm shop to pick up local fresh organic food to take back and cook on the fire
- Explore the farm and it's many woodlands, meeting grazing animals (wild ones too) along the way. Just be sure to stay on the right side of the fence and keep gates closed
- Regular farm walk and tours during the summer months, keep an eye on the wesbite
- Hire eBikes from Cotswold eBikes who are based on the farm and can deliver right to the Huts. Choose one of the bespoke routes taking in the beautiful Cotswolds with lots of sights, food and watering holes along the way
- Cirencester (Roman capital of the Cotswolds) is 2 miles away and has a brilliant museum, a lido and lots of independent shops to explore.
Cost
£130 for two nights
£65 per additional night
Please enable Javascript to use our booking system
"What it lacks in 21st century amenities it more than makes up for in location. The surrounding wood, fields and towns are some of the most beautiful I've seen. It basically felt like we spent our Bank Holiday in a time capsule/Thomas Hardy novel, and I absolutely mean that in a complimentary way. Will is the perfect host - he explained everything that needed explaining on first meeting us and then left us to our own devices, exactly as we wanted." Henry
"This place is BLISS! Totally secluded in a beautifully natural setting with lush green vegetation and an ancient pond for a view. The hut was cosy and comfortable and had a nice big bed and you can see lots of wildlife from the varander." Rachel