Edible Extras!
Food feeds the soul as well as the body and is at the heart of what we do here at the farm.
For those after the ultimate ease our Edible Extras! provide not only a nourishing meal but also a wonderful experience. There's nothing quite like a feast on the fire in magical surroundings.
Breakfast Hamper
Homemade bread, eggs and bacon from the farm, baked beans, homemade jam and butter. £12pp
BBQ Box
Sausages and burgers from the farm (or halloumi and veg for veggies), homemade bread, garden tomatoes and salad leaves, homemade coleslaw. £13pp
Chilli
Mince beef from the farm and all you need for a delicious chilli. Best cooked for ages over the fire. With rice and garden salad leaves. £7pp
Celebration Welcome
Fresh flowers from the garden, wine, Booja Booja truffles. £35
Woodfired Ooni Pizza Oven
State of the art pizza oven, cooks a wood fired pizza in just a couple of minutes! Includes firewood and all cooking utensils you need(up to 8 people). £25 per oven per night.
Homemade dough and sauce can be bought from the farm shop, as well as all the toppings, many from the farm itself.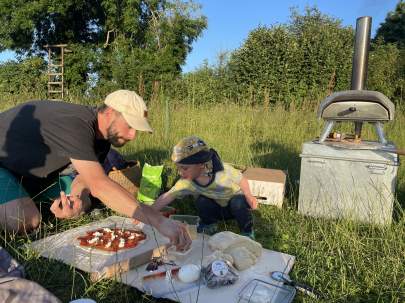 ps. The farm shop is full to brim of garden vegetables, soft fruit and herbs, pork, beef, lamb and chicken raised and butchered on the farm. Milk (refill from the vending machine), yoghurt, cream and cheese from our Shorthorns. Plus all the usual store cupboard essentials, choc, crisps, alcohol....household literally everything!