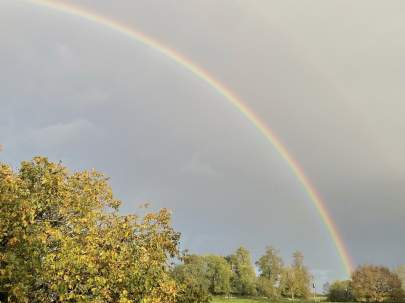 Newsletters
November 2nd 2023
Dear Friends,
Its great for the farm and more importantly for the planet that there does really seem to be a much wider understanding and awareness that to even begin to try and delay climate change some of our habits need to change. We are noticing many of our customers say they are shopping more here because they are really looking into how the food they buy is grown, whether it is for animal welfare reasons, protecting biodiversity and soil health, encouraging wildlife, not wanting to consume artificial chemicals or all of the above.
We know there is of course a section of our society that has to look for the least expensive options, but there is also a significant section that can make a difference by choosing to even if just sometimes support organic food and farming. Organic farming comes with very definitive standards that have to be upheld even in crisis so the consumer can be absolutely sure they are not being greenwashed. The word Organic does have its challenges, the words niche, expensive, unecessary come to mind but we all know in our heart of hearts that products of any sort that are 'cheap' hurt people and or animals and or the environment somewhere down the line, usually at the very beginning of it.
I wish we didn't need a word and it was just the norm, maybe one day it will be.......
Christmas News
Not quite round the corner but we are getting so many questions about ordering Christmas meat from the farm, ordering chickens, turkey news, gift vouchers and more. here is lots of info and opening hours for you to see.
There are numerous present ideas at the shop. Our gift vouchers cover the courses coming up this winter perfect for a treat, Willow Weaving, Salad Making
and an evening of Chocolate tasting on the horizon or spend on a meal in the cafe or a stay in a shepherds hut.
Another gift idea might be a beautiful bunch of homegrown and dried flowers now in the shop, from tiny posies up to large bouquets or a cosy quilted organic dressing gown from our workshop in India which you can buy at the shop or online.
The cooks are gearing up to filling the chillers and freezer with our nut roasts and winter pies and the mince pies will be available from late November. I have a note from last year that we couldn't keep up with demand - aiming to do better this time...
Roof Excitement
At the end of July we had the shed roof nearest to the shop stripped of its asbestos cement roof. Over a few weeks you might have then seen Tom, our son, put on a new tin roof and install 45kw of solar onto it. It has been a long time coming and the aim is to do much more, but for now we should be saving around 28% of the energy it takes to power the shop, cafe and garden annually.
Saturday Charity Day & Vintage Heaven
Thank you to everyone who came to our charity Saturday, shopped, ate and bought a raffle ticket. With all your help £3000 was raised from the shop, cafe and raffle sales and donated to Stroud Womens Refuge and Allsorts.
Other Charity News
Every Monday we give the Cirencester Food Bank 4 or 5 different veg and occasionally fruit. For the majority of the year its farm produce but when the hungry gap comes we buy in for them.
The Farm Project has been well booked this year and 272 children and young people have been to stay on the farm for a week. (just 9 or 10 at a time). They have learnt so much about nature, where food comes from, and even how to wash up and lay a table. They have harvested, collected and cooked ALL their own meals with us and experienced, often for the first time, sitting round a table together and chatting over food.
The farm shop and cafe help to sponsor or match fund some of these groups and of course you our customers help individually too. Thank you so much if you have donated this year, it is an experience they will remember for ever, and if you want to give again just look on the website above.
It feels great to be able to give to the Food Bank and the Farm Project, we couldn't do it without you shopping and eating here.
Not Forgotten
Regular readers might have noticed I haven't yet mentioned my favourite subject the vegetables.
Challenging year - I think they always are now - both for the farm crops and the veg garden, veg growers amongst you will be relieved to know that we too found the wet, cold, heat and wind came all at the wrong times for some crops and have a few failures too! But the good news is what you see when you walk in the door. Piles and piles of our veg, 41 varieties counted this morning, all grown just outside the shop in the tunnels, the glasshouse, the market garden or the fields.
Carrots, Potatoes, Red Cabbage, Sprouts and Parsnips plus loads else will of course all be waiting for you for your Christmas meal.
Hats Off
I take my hat off to everyone on the farm whose skills make everything happen that you see here.
And I take my hat off to you, for choosing to shop and eat here so we can carry on learning how to farm and care for this land in the very best way possible for our world.
Love
Hilary