Leadership / Strategy / Conferences / Away Days / Residential Stays / Meeting rooms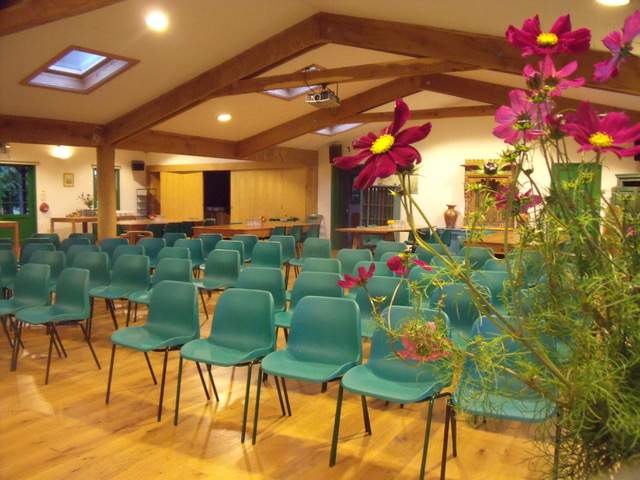 "The space the venue provides allows for reflection, deep thinking and creativity... a seedbed for learning"
The farm offers a residential or day space away from the office or usual workplace, giving the opportunity to see things from a different perspective and get to know each other outside peoples usual comfort zone.
"Close to civilisation but feels remote. Great food."
The Green Room is available for conferences, seminars, workshops and team building events with a second smaller breakout room adjacent. It is is equipped with projector, large screen, black out blinds, its own terrace and break out room.
"I just wanted to write to thank you for your really splendid reception. The farm looks lovelier than ever – and I do hope we will be back down there a lot sooner next time. The whole team were very enthusiastic with their visit".
All food and drink is in-house, 100% organic and much of it from the farm itself.
The Orchard, a residential centre built from the farms own wood, 'rustic comfort' with 9 ensuite bedrooms sleeping 16 max, a large sitting room/kitchen,underfloor heating, low energy lights and eco paint, wifi, a projector and a fabulously wide south facing verandah.
"Amazing room, spacious and clean/eco feel"
All heating is from a fully automated woodchip boiler, the first of its kind in Gloucestershire, with the chips coming from the farms' own sustainable woodland.
For costs and availability email Hilary
"As an international organisation, IOAS has held our annual weeklong staff training and retreat in various countries over the years but general opinion is that our stay at Abbey Home Farm provided the best venue ever. Excellent organic meals, beautiful rural surroundings and comfortable accommodation all made their contribution, but what really made the difference was the care and attention paid to accommodating our needs (and wishes!)." Jan, IOAS
"Our group stayed there as part of a leadership development programme. The space the venue provides allows for reflection, deep thinking and creativity and for several members of the group, the 2 days there caused a real shift in thinking on all sorts of levels. One participant told me recently that she felt the venue had 'a clear, authentic ethos that made you think. It was quiet and calm and a seed-bed for learning." Sally, Course Leader
The feedback from groups often mentions that the time spent outside (with the group's own facilitators alongside them) harvesting,collecting eggs and just being in the woods often produces more personal outcomes than more usual personal development programmes.. Our farming enterprises include a dairy and v small cheesemaking unit, the butchery, a 10 acre vegetable garden, native breed cattle, a sheep flock, laying hens, table birds and our tiny outside pig unit.
There is also a teaching kitchen and a very popular interactive farm scavenger hunt using smart phones and nature together! Participants do need to be able to walk a couple of miles to partake.