The Cart Shed
In line with government guidance the The Cart Shed will reopen from 12th April 2021. Look forward to welcoming you to the farm!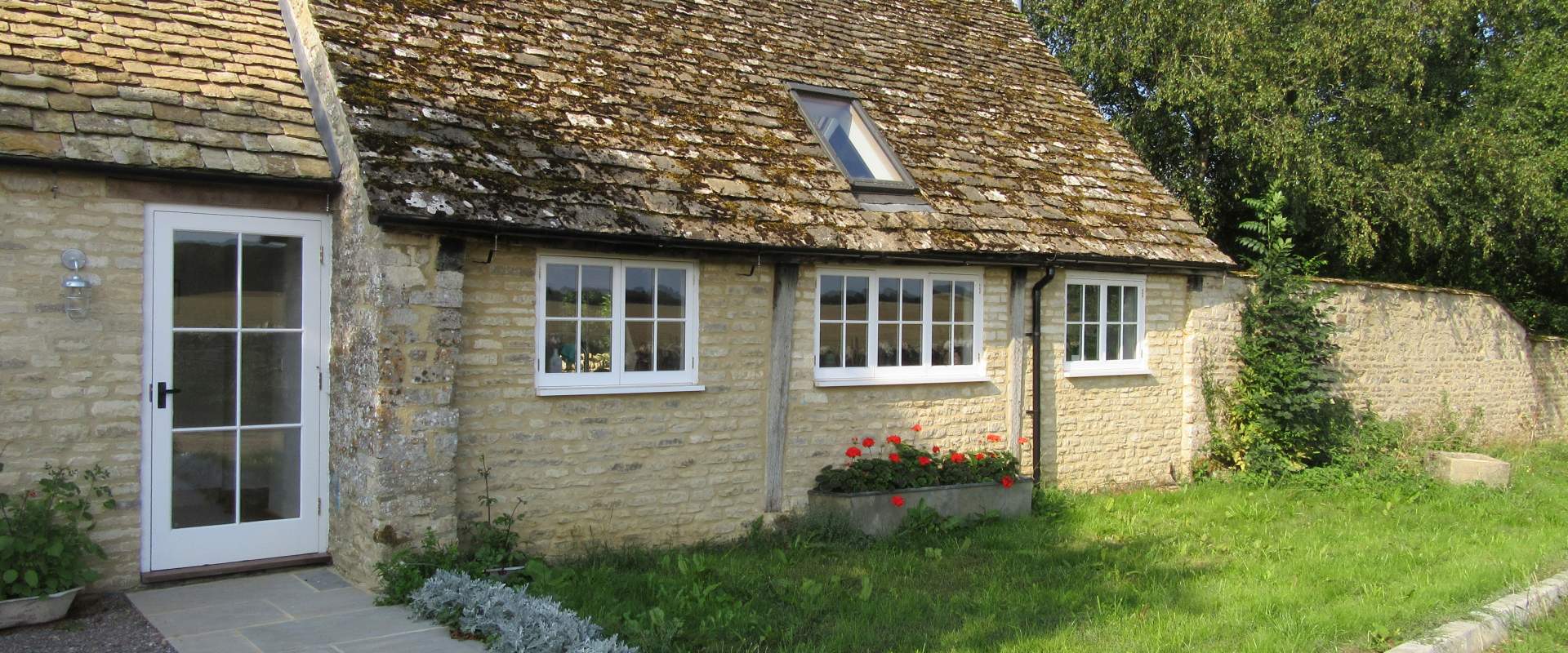 Please read here our Covid-19 information for all Lower Wiggold Cottage and Cartshed guests
Location
Newly converted, with beautiful original beams, the Cart Shed is a detached light and spacious space. Max two people right at the end of our farm track, with the horses for neighbours and our families a stones throw away
Suitable For
Max 2 adults, retreat or romance. Special occasions. Perfect for those wanting to be totally surrounded by nature but not actually sleep out in it!
What's Inside
- Large, bright open plan kitchen/dining/sitting room - Woodburning stove (and 2 bags of logs)
- French windows opening onto the south west facing terrace
- Bedroom with a superking bed and french windows
- Bathroom with a full size bath and a separate shower
- Radiators and hot water heated by the air source heat pump
- Bedlinen and towels provided
- Wifi
What's Outside
- Sunny south west facing terrace and grass
- Table and chairs
- Brazier
- Parking right outside the door
What To Bring
- Walking boots, books...
What Not To Bring
Not too much food! The farm shop is full of fresh veg, fruit, meat, dairy and bread from the farm as well as all the groceries, alcohol and household items you could ever need. Lots of delicious homemade ready meals to pop in the oven. (The cafe serves hot drinks and cakes, light breakfasts and delicious vegetarian lunches, with meat from the farm on a Sunday - currently closed due to COVID).
Important Info
Arrival from 4.30pm
Departure by 11am
Sorry no children
No pets
What To Do Here
- Relax...it's a bright, light open plan room perfect for just being in
- Stroll 25 mins down the old railway line to the farm shop to pick up local organic supplies for lunch (much from the farm itself) then loop back cross country over the fields
- Explore the farm and it's many woodlands, meeting grazing animals (wild ones too) along the way. Just be sure to stay on the right side of the fence and keep gates closed
- Regular farm walk and tours during the summer months, dates coming soon
- Hire eBikes from Cotswold eBikes who are based on the farm and can deliver right to your door. Choose one of their bespoke routes taking in the beautiful Cotswolds with lots of sights, food and watering holes along the way
- Head to Cirencester (Roman capital of the Cotswolds), 2 miles away. There's a brilliant museum, a lido and lots of independent shops to explore
COST
£300 for 3 nights (minimum charge)
£100 per additional night
£600 for 6 or 7 nights
23rd December 2021 - 1st January 2022
£125 per night (min 3 nights)
Tuesday, April 13th, 2021
Wednesday, April 14th, 2021
Thursday, April 15th, 2021
Saturday, April 17th, 2021
Tuesday, April 20th, 2021
Wednesday, April 21st, 2021
Thursday, April 22nd, 2021
Saturday, April 24th, 2021
Tuesday, April 27th, 2021
Wednesday, April 28th, 2021
Thursday, April 29th, 2021
Wednesday, May 26th, 2021
Wednesday, June 2nd, 2021
Saturday, June 12th, 2021
Saturday, June 26th, 2021
Saturday, July 31st, 2021
Tuesday, August 3rd, 2021
Wednesday, August 4th, 2021
Thursday, August 5th, 2021
Saturday, August 7th, 2021
Thursday, September 30th, 2021
Friday, October 1st, 2021
Saturday, October 2nd, 2021
Booking Form
"We mail to say we had a wonderful time in the Cart Shed over the weekend. The property is smart, spacious, secluded and, therefore, quite special......We will be back, for longer next time."
"One of the best airbnbs we have ever stayed in! The pictures really don't do it justice. The cart shed was really clean, calm, cosy and just perfect for a weekend away to relax. We met a few members of the family on the farm too and they were so lovely and helpful! We ate lunch at the farm shop and the food was great. We also bought our supplies for the weekend there. Overall a great trip and I struggle to believe anyone would be disappointed if they booked a stay here." November 2019