Will and Hilary now joined by their daughter Maya, have been importing old and reclaimed furniture, textiles and folkart from India for over 35 years. You can visit the farmshop and see the stock throughout the year.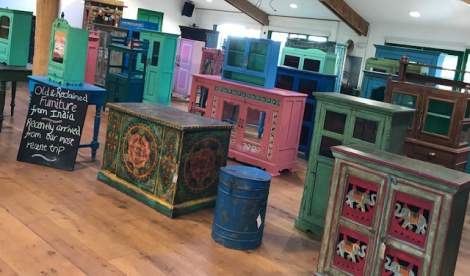 The barn viewings are over and thank you all for coming! The appointment system worked well and lots of lovely cupboards and tables and chests etc have found new homes. This latest shipment is now in the green room so easy to see when you come to the shop. There is still a good selection of unusual old/reclaimed/handpainted Indian furniture and artefacts including a very large selection of old enamel kitchenware, that we chose on our trip to India last November.
Love Hilary, Will & Maya
If you would like to be informed of future barn opening dates please fill out the email contact details on the home page of the website. Most of the furniture will come down to the green room for the rest of this year.
Furniture, textiles, folkart from India
In the shop - a selection of chests, boxes, scarves, sarongs, coffee tables, shelf units, shawls, one off bedspreads and more. Nearly all the furniture is old or made from reclaimed wood. There are also lots of textiles, old and new, and lots of unusual bits and pieces.....come and visit when you can, lovely lunches in the cafe and a 30ish minute farm trail thro woods and fields too. (sorry no dogs this side of the farm - we do have a lovely dog walk 4 mins drive away)