Nature Notes from Will -
OUT AND ABOUT ON THE FARM
greater spotted woodpecker hammers on the tin roof of the workshop early morning alarm call for the neighbours . spring in the air spring in the step smiles about .
green woodpeckers yaffling away . found a pheasant nest among the brambles in yellow school wood - one egg only - dont know if its been deserted or just laid .
wood anemones abound around the pond at wiggold . white violets in the hedgerow . the time of the white flowers . saw a great crested newt surface for air in the new pond - wow exciting ! loads of toad spawn in deer's choice as well as common newts , no sign of the frog spawn wonder what's eaten it ?
On October 1st 2020 we decided to take approx 6 1/2 acres of Vern field out of production and let Mother Nature take over .
We have followed recent Rewilding debates with interest and as ever are keen to boost biodiversity on the farm so here we go !
We chose the northernmost end of Vern as it has historically been challenging ground for growing cereals - shaded by mature woodland, browsed by deer and rabbits and popular with docks and thistles .
After John had combined the wheat it was cultivated once which broke up the stubble and left a rough seedbed .
Bordered on 3 sides by woodland, the old railway line and roadside trees it will not be short of seed sources .
The new field has also reverted to its original name of Wiggold Downs .
Autumn 2020 has been a prolific year for acorns (oak mast year ) and it seemed too good an opportunity to miss so Will collected approx 2000 from the adjoining Wiggold wood and dibbed them into the the ground across the field . Of that 2000 perhaps 1000 (optimistic ?) could be viable seed and a further 50% may be lost to frost, slugs and rot over the winter .
500 spring seedlings will then need to survive deer, rabbits, voles, grey squirrels and drought ….. Out of an original 2000 perhaps 1% may reach maturity .
It's now time to let natural processes take over and we look forward to showing school groups and farm visitors what develops when agriculture takes a step back in 2021.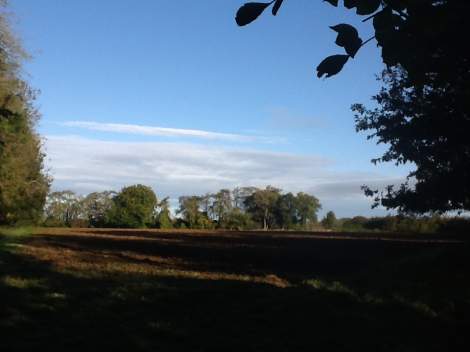 PS While planting the acorns Will picked up several dozen Neolithic flint fragments including 3 scrapers and a projectile point - evidence of the first farmers on the land 5-6,000 years ago .
( Wiggold Downs is only 2 fields away from the Sisters Long Barrow )