Willow Basket Weaving
with Tess Wakeling
Spend a day learning how to weave with different varieties of willow sustainably grown in Somerset. A one day course with Tess will introduce you to the ancient craft of basketry and guide you through the steps needed to complete a basket that will be functional as well as beautiful. You will follow the 'stake and strand' method and learn several different weave patterns, creating a round basket, if time with an added handle. Suitable for beginners or those with some experience.
Join Tess for two days in March and learn to make Asymmetric style baskets...a contemporary basket with a Polish-style asymmetric border. You will be given an introduction to basketry, one of the most ancient crafts, and be guided through the whole process learning lots of traditional techniques. You will practise several different weave patterns with a choice of varieties and colours of Somerset willow to add contrast and design to your basket. You will finish off with a thick piece of willow or hazel for a handle, and the eye-catching asymmetric border weave. Suitable for all ability levels.
Also possible to book just one day and make a small round basket
Willow is sustainably grown in the South West.
10.30 - 4
£85pp per day incl lunch
**plus £15 on the day for materials
Please enable Javascript to use our booking system
Make a weekend of it! All sorts of places to stay on the farm...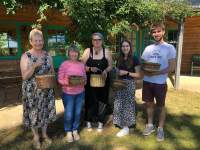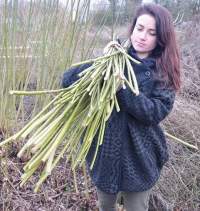 Tess teaches basket making at Ruskin Mill College in Gloucestershire, a centre for therapeutic craft which connects young people to the land and builds confidence and practical skills through making. She loves to pass on these skills to others and share in a craft that is satisfying and can be addictive to learn.
Working mostly with willow, Tess also sells her own designs after completing a City and Guilds Basketry qualification. Her willow lampshades are made to order and have been featured in Country Living's 'Modern Rustic'. She loves bringing natural materials into the home, whether it's a functional basket or sculptural art work. In an age where we are all increasingly aware of what we buy and where things come from, learning to make things from willow feels like a worthwhile step towards a more sustainable environment.
www.tesswakeling.comwww.tesswakeling.com