The Four Yurt Camp
In line with government guidance The Yurt Camp will reopen from 12th April 2021, for a single household booking.Please email us for details and cost. The Yurt Camp will fully reopen to mixed household groups from 17th May. Look forward to welcoming you to the farm!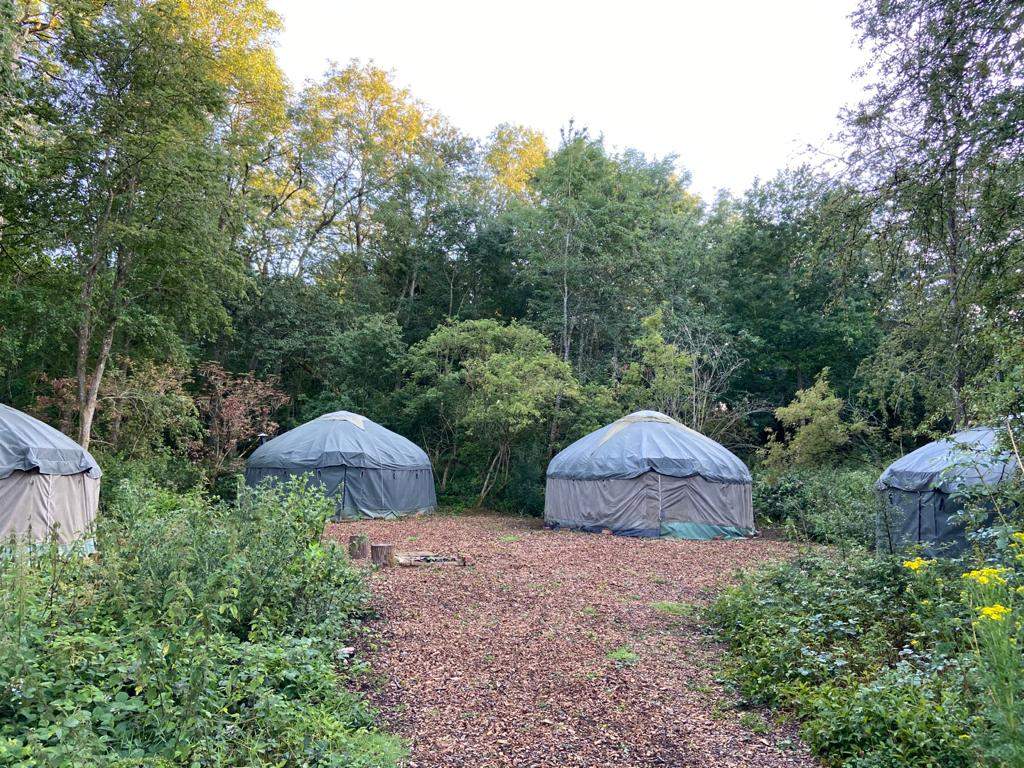 Location
Nestled into the side of the wood with lush views across rolling Cotswold farmland. Woods to explore and open field to run in
Suitable For
Extended families, groups of friends, Stags and Hens, retreats, outdoor residential workshops, sleepovers with a difference. This is a REAL eco camp, not glamping. But for those that want a weekend amongst the trees without having to put your own tent up, you can't get much better
What's Inside
- Very simple carpeted interiors, not furnished
- Slimline mattresses
- One yurt has a woodburner, perfect for gathering in if the weather turns
What's Outside
- A covered outdoor kitchen with gas hobs and cold water sink. All water is from the farm bore hole, safe and delicious to drink
- Fireplace equipped for cooking with log seats all around
- Some wood for the fire
- All basic pots, pans, crockery and cooking utensils
- Private compost loos
- Eco shower hut (heat your own water on the 50 litre wood fired water heater)
What to Bring
- All bedding
- Candles / Torch / Matches
- Loo roll
- Picnic chairs if you want extra comfort
- An open mind to the great British weather
What Not To Bring
Not too much food! The farm shop is full of fresh veg, fruit, meat, dairy and bread from the farm as well as all the groceries, alcohol and household items you could ever need. (The cafe, currently closed due to Covid - serves hot drinks and cakes, light breakfasts and vegetarian lunches, with meat from the farm on a Sunday)
Full/part catering available
Important Info
- Arrival between 4.30pm - 7pm
- Departure by 11am
- ! No electricity !
- Max 18 people including all children
- Car Park 5 mins walk from the camp, wheelbarrows provided
- Sorry no dogs, day visitors or amplified music
What To Do Here
- Hang out at the camp and enjoy what you hopefully came for...excellent company in a beautiful location
- Let the kids explore surrounding wood or send them across the field to find the totem pole...you'll still be able to see them from your chair
- Stroll five mins through the wood to the farm shop to pick up local fresh organic food to take back and cook on the fire
- Explore the farm and it's many woodlands, meeting grazing animals (wild ones too) along the way. Just be sure to stay on the right side of the fence and keep gates closed
- Regular farm walk and tours during the summer months, dates coming soon
- Hire eBikes from Cotswold eBikes who are based on the farm and can deliver right to the Huts. Child seats and trailers available. Choose one of the bespoke routes taking in the beautiful Cotswolds with lots of sights, food and watering holes along the way
- Cirencester (Roman capital of the Cotswolds) is 2 miles away and has a brilliant museum, a lido and lots of independent shops to explore.
Cost
3 nights (Friday to Monday) £654
4 nights midweek (Monday to Friday) £600
Please enable Javascript to use our booking system
"I just wanted to drop you a quick note and say thank you SO much for everything this weekend, we had an absolutely brilliant weekend on the farm. The scavenger hunt was perfect, the food was absolutely delicious and fresh, the camp was fab (even with the couple of furry friends we heard in the middle of the night) and we just had the best most memorable weekend. I will definitely be coming back with family and friends."
"Just wanted to say a huge thank you for the amazing time that we had at the farm last weekend. The yurts were great and the set up for the camp was much more than we were expecting. The food was also delicious and Will was super helpful, particularly setting up the hot water which was very welcome after our cycle!"