In line with current Government guidance we are re-opening the campsite, cottages, yurts and huts on Saturday 4th July. Come and enjoy the farm and explore this beautiful part of the Cotswolds this summer.
Single Yurt
The Single Yurt is in the most magical location, it's own private wood over ten minutes walk from the nearest building (20 mins across the fields from the farm shop and cafe). A sunny glade surrounded by conifers, a dream playground for children (and adults!). Sleeps max 5 people and is simply equipped inside with slimline mattresses and a woodburner, a small low table and a couple of comfy stools. A compost loo with a view, ten seconds from the yurt. ***New for 2020*** a rustic outdoor kitchen with a gas ring and cold water sink. Outdoor fireplace for cooking on and spending the evenings around. ***Also new for 2020*** an eco shower a few metres from the yurt amongst the trees overlooking rolling fields. Heat water on the fire and pour into the shower bucket (complete with a shower head) and enjoy 2 minutes of stunning views.
All pots, pans and cooking utensils provided. A certain amount of firewood, water (from a bore hole on the farm), peace and privacy also provided.
Just bring bedding, nightlights and torch, picnic chairs and table if you like....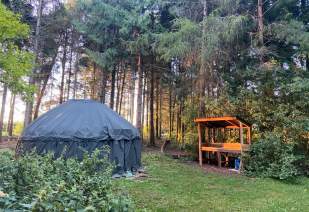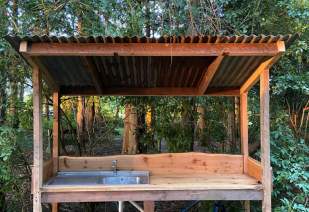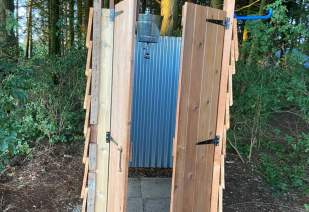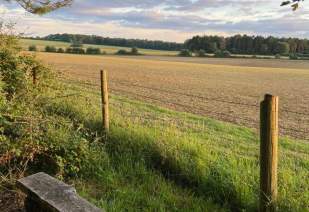 "What a fantastic few days we had! What a brilliant location and easy
way to live - so good that we are looking at booking again for next year."

Cost: £75 per night (two night minimum) for the yurt based on 1 or 2 adults staying. Children £5 each extra per night. Extra adults (after 2) £15 each per night. Maximum 5 people as it is situated in a lovely glade which has a fragile environment (bank holidays minimum stay 3 nights)
Arrival time: from 4.30 - 8pm
Departure time: 11am
No need to bring any food! The farm shop is choc a bloc with everything you could possible want or need. Much of it produced on the farm...fruit, veg, meat, milk, cheese, yoghurt, cream, bread and all the store cupboard essentials, alcohol, ice cream and lots more. The cafe serves light breakfasts, delicious (and healthy all at the same time) lunches, and lots of cakes. Enjoy the relaxed atmosphere or take away.
Looking for some off farm action? Cotswold eBikes, based right here... explore the local area straight from the farm, taking in the fresh country air, lush views and lots of interesting sights. Child seats and trailers available. For more info call 07367182402 or email hello@cotswoldebikes.co.uk (must be 14yrs or over)
Please enable Javascript to use our booking system
Before you book please note our Cancellation Policy:
If you cancel 3 months or more before the holiday; we will refund your payment less a 10% of payment admin charge.
If you cancel one month or more before the holiday: payment refunded if property is relet less a 10% admin charge as above.
If you cancel less than one month before the holiday payment is forfeited.
Full cost of rental will be charged if property is not relet. Outstanding debt is liable to 5% interest charge per month.
"Just wanted to thank you for the time we spent in the yurt in the woods - Sunday till today. Really needed the time to chill, the yurt and its setting are lovely, and the farm shop great ethos, great food, great that it's all organic." Gerry & Annie