In line with current Government guidance we are re-opening the campsite, cottages, yurts and huts on Saturday 4th July. Come and enjoy the farm and explore this beautiful part of the Cotswolds this summer.Please note the cafe is not currently open. We will update you as soon as it is.
Lower Wiggold Holiday Cottage
Please read our Covid Info for all Lower Wiggold Cottage and Cart Shed guests.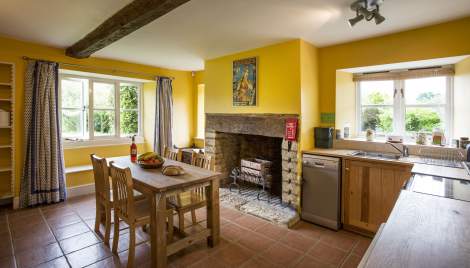 Lower Wiggold cottage is a two bedroom old Cotswold stone semi-detached cottage in the depths of the farm far from the hustle and the bustle. It is a perfect place for people who love the countryside and good food.
The Cottage is quite roomy, a kitchen dining room, large sitting room with a woodburner, a spacious double bedroom with views across the farm and a 5' bed made of cherry from the woods. There is a small twin bedded room and a shared bathroom with bath and shower. Unusual old and reclaimed furniture from our travels in India. Dishwasher, use of a washing machine, TV, DVD and environmentally friendly cleaning products. There is solar thermal for the hot water, and an air source heat pump for the radiators throughout the cottage.The cottage has a small south facing garden, where you can sit and dream, watch the sheep, horses or cows in the fields around you.
No need to bring any food! The farm shop is choc a bloc with everything you could possible want or need. 100% organic and much of it produced on the farm...fruit, veg, meat, milk, cheese, yoghurt, cream, bread and all the store cupboard essentials, alcohol, ice cream and lots more. The cafe serves light breakfasts, delicious (and healthy all at the same time) lunches and lots of cakes. Enjoy the relaxed atmosphere or take away. Its a 20 minute walk or 5-10 mins by bike down the old railway line - great for kids cycling, very flat, or a lovely ramble across the fields.
There are various courses running at the farm during the year if you fancy booking in to learn a new skill or some more cooking skills. They are often at weekends, but sometimes fit in with a mid week break too. You can book most of them online here.
Looking for some off farm action? Cotswold eBikes, based right here... explore the local area straight from the farm, taking in the fresh country air, lush views and lots of interesting sights. Child seats and trailers available. For more info call 07367182402 or email hello@cotswoldebikes.co.uk (must be 14yrs or over)
"Thanks again for such a wonderful stay on the farm. It was everything we hoped it would be and more. Most of all it was peaceful and calming, which is something most travellers these days are not looking for, expecting, or recognizing. Thank you all for your open and genuine hospitality."
TERM TIME
April to October £500 per week
November to March £395 per week
April to October £300 (Nov to March £275) for three nights
please note this is our minimum charge.
£375 for four nights (Nov to March £325)
£450 for five nights (Nov to March £350)
£500 for six or seven nights in term time (Nov to March £395)
SCHOOL HOLIDAYS excluding christmas
£600 per week
£300 for three nights (this is our minimum charge.)
£400 for four nights
£500 for five nights
£600 for six or seven nights.
Christmas & New Year
24th December to 27th, 28th or 29th December £900 total
30th December to 2nd or 3rd January 2021 £750 total
The organic bed linen shown is available to hire or you can bring your own. Double bed £12 Singles £10 each. 2 large and 2 small towels max are provided with the bedlinen hire, so if you would like more than this please bring extra with you.
(If you are bringing your own bedlinen there is a kingsize duvet and 4 pillows in the large bedroom and 2 single duvets and 2 pillows in the smaller room.)
Change over days are MONDAY and FRIDAY. If you cannot manage those days please email and we will try to help, if we can check in will be 5.30 instead.
Arrival from 4.30pm
Departure by 11am
No unaccompanied under 21's
No pets allowed on site as this is a working farm. Please be aware that the use of the cottage is only for the number of occupants stated on the booking form.
Before you book please note our Cancellation Policy:
Full payment for a short break or 50% deposit of a week plus stay is due on booking.
The balance is due one month before date of arrival.
If you cancel 3 months or more before the holiday; we will refund your payment less a 10% of payment admin charge.
If you cancel one month or more before the holiday: payment refunded if property is relet less a 10% admin charge as above.
If you cancel less than one month before the holiday payment is forfeited.
Full cost of rental will be charged if property is not relet. Outstanding debt is liable to 5% interest charge per month.
Availability:
Booking Form:
"We really enjoyed our stay at Lower Wiggold Cottage. The cottage is cozy and was just perfect for our family. We all enjoyed evenings relaxing by the fire and mornings watching the horses grazing on the fields outside. The kitchen is well equipped for cooking and the farm shop has everything you could need (and more!). Location is brilliant for exploring the Cotswolds. We only wish we could have stayed longer!